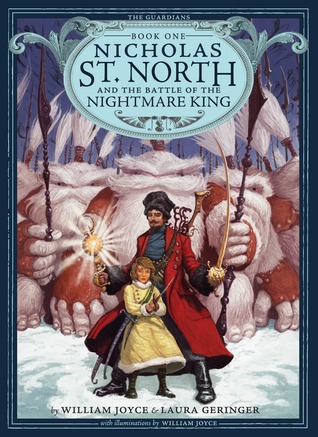 This book was reviewed by: C
Received: Library
Publication Date of Book: October 4, 2011
Pages: 228
Stars: 4/5
"The possibilities were endless. Battles would be
fought. Wonders revealed. Many journeys. Many lands. Many joys. Many sorrows." -William Joyce, Nicholas St. North and the Battle of the Nightmare King (The Guardians,#1)
In the center of a large forest, protected by a spirit that tempts trespassers with glittering jewels, and guarded by a ferocious bear that stalks the shadows, lies the hidden village of Santoff Claussen. This strange place is hidden from the world and is home to an odd group of individuals, including families with children that are capable of speaking to insects and an old wizard from Atlantis, Ombric Shalazar, who is able to perform amazing magical feats. Deep within the shadows an evil stirs, an evil that is both ancient and terrifying. Pitch, the Nightmare King, and his Fearlings have awoken and Ombric cannot defeat them on his own. He needs the help of a brave warrior, who may not know just how special he is. This is where Nicholas St. North enters the picture. A bandit who knows the way of the sword is the only one with the power to help save Santoff Claussen and destroy Pitch once and for all. The only problem, however, is getting North on their side. North loves adventure and is soon lured to the illusive village. His men all easily fall to the traps that protect the people and North is the only one who enters Santoff Claussen. This one man is pure of heart and becomes Ombric's apprentice. North begins to display some interesting talents and builds a creature unlike any other, a mechanical djinni. This creation may be his undoing, as Pitch will use anything to rid the world of Nicholas St. North. Will North be able to defeat the Nightmare King or will his own handiwork be his undoing?
William Joyce has crafted a delightful children's story filled with adventure and inspiring characters. He removes all previous notions of how old St. Nick should be portrayed. North is nothing like the jolly, white-bearded, elderly gentleman that we often picture as Santa Claus. He has crafted North in such a way that he is seen as a warrior, but a warrior that still holds the desire to save children and their happiness within his heart. I love the fact that Joyce has created such interesting origins for famous holiday icons and beings that many children believe in. The series itself is a great concept and I cannot wait to read the stories of the Easter Bunny, Tooth Fairy, and Sandman. I have to say that this series definitely piqued my interesting after I was able to see the movie
The Rise of the Guardians
. Both are severely dissimilar, but it's great to be able to see where the movie's inspiration arose. My only qualm with this book, however, would be the fact that it was not as in depth as I had hoped it would be. It is a Middle Grade novel, therefore the characters are not as deep and the adventures are quite short. I wonder what the story would have been like if it had been a Young Adult novel?Overall, it was a great book and it head breathtaking illustrations!
If you enjoyed this book you may also like: