GHOSTS
November's Topic of the Month is officially

Ghosts

!

Check out some of these haunting reads!
Read by F and H
Here is the GoodReads summary of the book: Callum Blackwell thinks his life can't get any worse. But he's wrong. Callum is haunted by the dead. The only thing that keeps them away is a diary he has found in the basement of his house. After he moves to a godforsaken town of Olden Cross, the haunting stops. But one day Callum and his friend, Nathan, find something terrible. And then the dead reappear. Callum's existence turns into a living hell. Boys and girls Callum's age start disappearing, and when Callum least expects it, his diary goes missing.
Read by B, C, and H
Here is the Amazon summary of the book: Jack is not a normal boy. He can talk to ghosts. In his new home, an aging farmhouse, he meets the Ghost Mother, a grief-stricken spirit who becomes very attached to him...too attached. He learns that the Ghost Mother is preying in the cruelest imaginable way on four child ghosts who are trapped in the house, stealing their energy to sustain her own. Before Jack can figure out how to help them, the Ghost Mother takes possession of his real mother's body. Jack wants to fight back, but he has severe asthma and risks fatal attacks with any physical exertion. It will take all his resources to fight off the Ghost Mother and save the ghost children from a horrible fate.
Here is the GoodReads summary of the book: When Elliot and his brother move into the old and crumbling Glebe House they don't expect to find themselves sharing it with ghosts. But soon sinister events are unfolding. An old diary reveals glimpses of the mansion's past - and of a terrible tragedy. An old woman talks to ghosts - but is she in fact being controlled by them? And what of the sinister East Wing - a hideous labyrinth devised by a truly twisted mind? Can Elliott and his family escape the clutches of Glebe House? Or will they end up trapped in the endless maze of corridors, forever hunted by the dead?
Read by B
Here is the GoodReads summary of the book: Travis and his sister, Corey, can't resist a good trick - so when they learn that their grandmother's sleepy Vermont inn has a history of ghost sightings, they decide a little "haunting" of their own. Scaring the guests proves to be great fun, and before long, the inn is filled with tourists and ghost hunters eager for a glimpse of the supernatural. But Travis and Corey soon find out that they aren't the only ghosts at Fox Hill In. Their thoughtless games have awakened something dangerous, something that should have stayed asleep. Restless, spiteful spirits swarm the inn, while a dark and terrifying presence stalks the halls and the old oak grove on the inn's grounds. To lay the ghosts at rest, Travis and Corey must first discover the dark history of Fox Hill and the horrors visited on its inhabitants years earlier.
Read by H, C, and B
Here is the GoodReads summary of the book: The time is 1872. The place is New York City. Horace Carpetine has been raised to believe in science and rationality. So as apprentice to Enoch Middleditch, a society photographer, he thinks of his trade as scientific art. But when wealthy society matron Mrs. Frederick Von Macht orders a photographic portrait, strange things begin to happen. Horace's first real photographs reveal a frightful likeness: it's the image of the Von Macht's dead daughter, Eleanora. Pegg, the Von Macht's black servant girl, then leads him to the truth about who Eleanora really was and how she actually died. Joined in friendship, Pegg and Horace soon realize that his photographs are evoking both Eleanora's image and her ghost. Eleanora returns, a vengeful wraith intent on punishing those who abused her.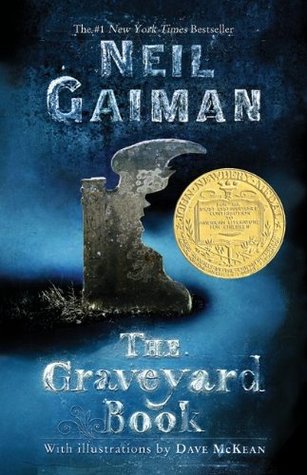 Read by: C
Here is the GoodReads summary of the book: After the grisly murder of his entire family, a toddler wanders into a graveyard where the ghosts and other supernatural residents agree to raise him as one of their own.
Nobody Owens, known to his friends as Bod, is a normal boy. He would be completely normal if he didn't live in a sprawling graveyard, being raised and educated by ghosts, with a solitary guardian who belongs to neither the world of the living note the dead. There are dangers and adventures in the graveyard for a boy. But if Bod leaves the graveyard, then he will come under attack from the man Jack-who has already killed Bod's family.
Here is the GoodReads summary of the book: Doug Mitchell's daughter, Janie, has a new imaginary friend...who wants Doug to leave his house. After being awoken by strange sounds night after night, Doug realizes his daughter's imaginary friend might be something paranormal. In his pursuit of answers, Doug exhumes entails about the history of their property, including a possible reason for the spirit's presence. After a near-catastrophic injury to his wife, and a shocking revelation from Janie, Doug learns this spirit doesn't want Doug to leave-it wants young Janie for itself. As the paranormal power increases and Janie's will to resist the spirit's advances weakens, Doug must fight for the safety of his entire family.
Here is the GoodReads summary of the book: In the scorching summer of 1976, the hottest since records began, Christopher Norton, his wife, Laura, and their young daughter, Faye, settle into their new home in north London. The faded glory of the Victorian house is the perfect place for Norton, a composer of film soundtracks, to build a recording studio of his own. But soon in the long, oppressively hot nights, Laura begins to hear something through the crackle of the baby monitor. First, a knocking sound. Then come the voices. For Norton, the voices mark an exciting opportunity. Putting his work to one side, he begins the project of a lifetime, a grand symphony incorporating the voices and becomes increasingly obsessed with one voice in particular. Someone who is determined to make themselves heard.
Read by: B
Here is the GoodReads summary of the book: Zack, his dad, and new stepmother have just moved back to his father's hometown, not knowing that their new house has a dark history. Fifty years ago, a crazed killer caused an accident at the nearby crossroads that took 40 innocent lives. He died when his car hit a tree in a fiery crash, and his malevolent spirit has inhabited the tree ever since. During a huge storm, lightning hits a tree, releasing the spirit, who decides his evil spree isn't over...and Zack is directly in his sights.
Here is the GoodReads summary of the book: Could the road to the afterlife be a two-way street? Derek Stone just turned fourteen. He's lived in New Orleans with his dad and older brother, Ronny, his whole life. He's a little overweight. He can't hear well out of his left ear. Oh, and he's on the run from the dead. Derek never imagined that the dead could be anything but dead. But there's no denying it. They're back-and they're after him. He just doesn't know why. And he doesn't have long to figure it out.