Read by: B
Read our
review
!
Here is the GoodReads summary of the book: When Edwin cuts his finger, dripping a few drops of blood onto a bone-colored tracking device he becomes a target of a group of aliens that think he holds the secret to the human race's defeat. The only person who seems to know what to do is a fat man wearing a Santa Claus suit and he somehow seems to know just a little too much. Who is he and why does he know so much? Where did the aliens come from and what are they after? Can a fourteen year old wandering the cold, empty streets of Manhattan late on Christmas Eve and an odd character dressed as Santa Claus stop the aliens, save the planet and discover the true meaning of Christmas?



Read by: H and C
Here is the GoodReads summary of the book: Scared by a storm, Twinklestar, the least reliable reindeer, bolts-cauisng Santa and his sleigh to crash-land. And though Santa has dropped into a friendly neighborhood, he's not safe: Jeremiah Goblynch, the ruthless new leader of the Council of Yuleand, is determined to put an end to children's wishes and turn the holiday season into his own personal moneymaking scheme. As the last REAL St. Nick around, only Santa stands between Goblynch and his grinch like plan. With the help and hope of kids Charlotte and Ben, Santa must face Goblynch and his Nutcracker goons to save Christmas!



Read by: C and B
Here is the GoodReads summary of the book: Eight-year-old Tess is convinced this is the year she will finally meet Santa, and experience "the Christmas magic." She also wishes with all her heart that her best friend's ill father will recover. Tess's faith in the season results in a Christmas Eve so wondrous, so sparkling, readers won't be able to help but feel transformed.
Read by: C and B
Here is the GoodReads summary of the book: Geronimo's full of holiday cheer-but everywhere he turns disaster strikes. What's a rodent to do when Santa Mouse turns into a Christmas grinch?
Our thoughts on the book: The Geronimo Stilton series is very close to our hearts. It defined our childhood and will forever be one of our favorite series! We highly recommend these books to young readers!!!



Read by: C and B
Here is the GoodReads summary of the book: For Hart Evans, being the most popular kid in sixth grade has its advantages. Kids look up to him, and all the teachers let him get away with anything-all the teachers except the chorus director, Mr. Meinert. When Hart's errant rubber band hosts Mr. Meinert on the neck during chorus practice, it's the last straw for the chorus director, who's just learned he's about to lose his job due to budget cuts. So he tells the class they can produce the big holiday concert on their own. Or not. It's all up to them. And who gets elected to run the show?The popular Mr. Hart Evans. Hart soon discovers there's a big difference between popularity and leadership, and to his surprise, discovers something else as well-it's really important to him that this be the best holiday concert ever, and even more important, that it not be the last.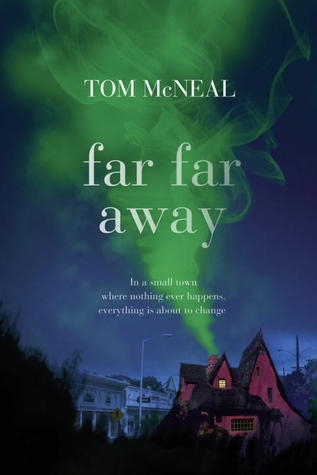 Read by: B
Here is the GoodReads summary of the book: Its says quite a lot about Jeremy Johnson Johnson that the strangest thing about him isn't even the fact his mother and father both had the same last name. Jeremy once admitted he's able to hear voices, and the townspeople of Never Better have treated him like an outsider since. After his mother left, his father became a recluse, and it's been up to Jeremy to support his family. But it hasn't been up to Jeremy alone. The truth is, Jeremy can hear voices. Or, specifically, one voice: the voice of the ghost Jacob Grimm, one half of the infamous writing duo, the Brothers Grimm. Jacob watches over Jeremy, protecting him from the unknown dark evil whispered about in the space between this world and the next. But when the provocative local girl Ginger Boultinghouse takes an interest in Jeremy (and his unique abilities), a grim chain of events is put into motion. And as anyone familiar with the Grimm Brothers know, not all fairy tales have happy endings...
My thoughts:
Yes, this is not an exact Christmas book, but I read it during this season, and I think that it fits here perfectly! There's a very important character in it that resembles Santa Claus, and he may not be as jolly as he seems...