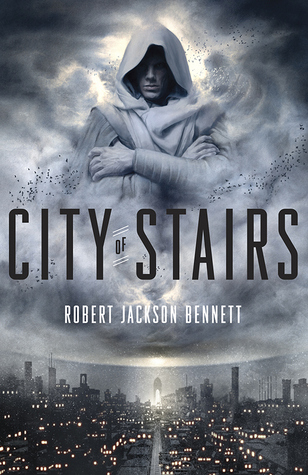 This review was written by: B
Received: BloggingforBooks
Publication Date of Book: September 2014
Pages: 452 (paperback edition)
Stars: (5/5)
Official Summary:
The city of Bulikov once wielded the powers of the gods to conquer the world, enslaving and brutalizing millions - until its divine protectors were killed. Now, Bulikov's history has been censored and erased, its citizens subjugated. But the surreal landscape of the city itself, forever altered by the thousands of miracles its guardians once worked upon it, stands as a haunting reminder of its former supremacy.
Into this broken city steps Shara Thivani. Officially, the unassuming young woman is just another junior diplomat sent by Bulikov's oppressors. Unofficially, she is one of her country's most accomplished spies, dispatched - along with her terrifying "secretary," Sigrud - to solve a murder.
But as Shara pursues the killer, she starts to suspect that the beings who ruled this terrible place may not be as dead as they seem, and that Bulikov's cruel reign may not yet be over.
A tale of vast conspiracies, dead gods, and buried histories,
City of Stairs
is at once a gripping spy novel and a stunningly original work of fantasy.
To put it simply,
City of Stairs
blew me away, and now I'm left wondering, how does one begin to describe or even formulate a cohesive sentence on a story so perfectly unimaginable? I suppose that I should start with the author. Robert Jackson Bennett has a writing style that is rich and imaginative, enthralling and deep. Every word he wrote, I clung to like it was my last hope. He possessed a capturing effect that made me want to flip through the book at the speed of light to figure out what happened, yet I wanted to read at a snails pace, as well, in hopes that the experience would never end.
The world building was yet another fantastical element in this story. Bennett's world unfurls at the perfect pace which left me in wonder and blatant awe. The (urban) fantasy was absolutely brilliant and masterfully written. It was impossible for me not to fall into this book! The characters each had a distinct and natural voice, a quality that I greatly admire. So many times, an author's characters just blend together and become one blob of similar traits, but this was not the case here. The history and qualities of the Divinities were each unique, as well. They added a great intrigue to an already amazing writing style.
In the end, I was deeply impressed. There was mystery, cultural distress and identity, a murder mystery, and a strange entanglement with supposedly dead gods that bundled into a worthy book to behold.
City of Stairs
was impressive, epic, and original, and I found myself completely satisfied with it. RJB is a sure author to look out for. I know that I will continue to read his books as long as he decides to make them!
Also, please note that I received a free copy of this book from Blogging for Books in exchange for an honest review.
Other Information:
Author Twitter Page:
https://twitter.com/robertjbennett
Further Book Information :
http://www.randomhouse.com/book/228171/city-of-stairs-by-robert-jackson-bennett
Author Bio:
http://www.randomhouse.com/author/177470/robert-jackson-bennett
If you liked this book you may also enjoy: