Greek Mythology Twists (YA and MG)
March's
Topic of the Month
is officially
Greek Mythology Twists (Ya and MG)
! To kick it off, we have posted a few Greek mythology based books that may interest you. If you have any suggestions let us know! Hope you enjoy! (Click on the covers to go to the books' GoodReads pages!)
Here is the GoodReads summary of the book:
Percy Jackson is a good kid, but he can't seem to focus on his schoolwork or control his temper. And lately, being away at boarding school is only getting worse - Percy could have sworn his pre-algebra teacher turned into a monster and tried to kill him. When Percy's mom finds out, she knows it's time that he knew the truth about where he came from, and that he go to the one place he'll be safe. She sends Percy to Camp Half Blood, a summer camp for demigods (on Long Island), where he learns that the father he never knew is Poseidon, God of the Sea. Soon a mystery unfolds and together with his friends -- one a satyr and the other the demigod daughter of Athena -- Percy sets out on a quest across the Untied States to reach the gates of the Underworld (located in a recording studio in Hollywood) and prevent a catastrophic war between the gods.
The rest of the books in the series: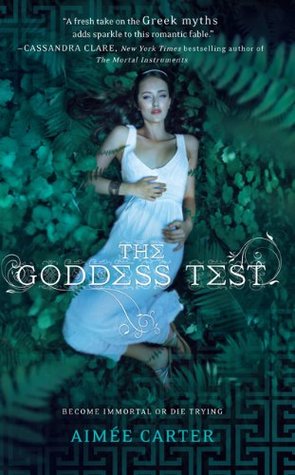 Here is the GoodReads summary of the book:
Every girl who had taken the test has died. Now it's Kate's turn.
It's always been just Kate and her mom -- and her mother is dying. Her last wish? To move back to their childhood home. So Kate's going to start a new school with no friends, no other family, and the fear that her mother won't live past the fall.
Then she meets Henry. Dark. Tortured. And mesmerizing. He claims to be Hades, god of the Underworld -- and if she accepts his bargain, he'll keep her mother alive while Katie tries to pass seven tests.
Kate is sure he's crazy -- until she sees him bring a girl back form the dead. Now saving her mother seems crazily possible. If she succeeds ,she'll become Henry's futre bride and a goddess.
If she fails...
The other books in the series:
Here is the GoodReads summary of the book:
Three teenage descendants of Medusa, the once-beautiful Gorgon maligned in myth, must reunite and embrace their fates.
Grace just moved to San Francisco and is excited to start over at a new school. The change is full of fresh possibilities, but it's also a tiny bit scary. It gets scarier when a minotaur walks in the door. And even more shocking when a girl who looks just like her shows up to fight the monster.
Gretchen is tired of monsters pulling her out into the wee hours, but what can she do? Sending the minotaur back to his bleak home is just another notch on her combat belt. She never expected to run into this girl who could be her double, though.
Greer has her life pretty well put together, thank you very much. But that all tilts sideways when two girls who look eerily like her appear on her doorstep and claim they're triplets, supernatural descendants of some hideous creature from Greek myth, destined to spend their lives hunting monsters...
The other books in the series:
Here is the GoodReads summary of the book:
When Phoebe's mom returns from Greece with a new husband and moves them to an island in the Aegean, Phoebe's plans for her senior year and track season are ancient history. Nows she must attend the uber exclusive academy, where admission depends on pedigree, namely, ancestry from Zeus, Hera, and other Greek gods. That's right, they're real, not myth, and their teen descendants are like the classical heroes: super smart and super beautiful with a few superpowers. And now they're on her track team! Armed only with her nikes and the will to win, Phoebe races to find her place among the gods.
The other book in the series: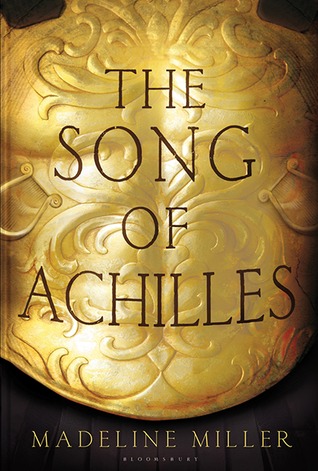 Here is the GoodReads summary of the book:
Greece in the age of Heroes. Patroclus, an awkward young prince, has been exiled to the kingdom of Phthia. Here he is nobody, just another unwanted boy living in the shadow of King Peleus and his golden son, Achilles.
Achilles, 'best of all the Greeks', is everything Patroclus is not - strong, beautiful, the child of a goddess - and by all rights their paths should never cross. Yet one day, Achilles takes the shamed prince under his wing and soon their tentative companionship gives way to a steadfast friendship. As they grow into young men skilled in the arts of war and medicine, their bond blossoms into something far deeper - despite the displeasure of Achilles's mother Thetis, a cruel and deathly pale sea goddess with a hatred of mortals.
Fate is never far from the heels of Achilles. When word comes that Helen of Sparta has been kidnapped, the men of Greece are called upon to lay siege to Troy in her name. Seduced by the promise of a glorious destiny, Achilles joins their cause. Torn between love and fear for his friend, Patroclus follows Achilles into war, little knowing that the years that follow will test everything they have learned, everything they hold dear. And that, before he is ready, he will be forced to surrender his friend to the hands of Fate.
Profoundly moving and breathtakingly original, this rendering of the epic Trojan War is a dazzling feat of the imagination, a devastating love story, and an almighty battle between gods and kings, peace and glory, immortal fame and the human heart.
Here is the GoodReads summary of the book:
How do you defy destiny?
Helen Hamilton has spent her entire sixteen years trying to hide how different she is - no easy task on an island as small and sheltered as Nantucket. And it's getting harder. Nightmares of a desperate desert journey have Helen waking parched, only to find her sheets damaged by dirt and dust. At school she's haunted by hallucinations of three women weeping tears of blood . . . and when Helen first crosses paths with Lucas Delos, she has no way of knowing they're destined to play the leading roles in a tragedy the Fates insist on repeating throughout history.
As Helen unlocks the secrets of her ancestry, she realizes that myths are more than just legend. But even demigod powers might not be enough to defy the forces that are both drawing her and Lucas together - and trying to tear them apart.
The other books in the series:
Ready by: B
Here is the GoodReads summary of the book:
After pulling a magical thunderbolt from a stone, ten-year-old Zeus goes on an adventure of a lifetime in this thrilling start to a brand-new series! The Terrible Titans - merciless giants who enjoy snacking on humans - have dominated the earth and put the world into chaos. But their rule is about to be put to the test as a group of young Olympians discover their powers and prepare to righteously rule the universe...
Zeus gets his wish - and a lot more than he bargained for - when he is kidnapped by dangerous, giant Titans! In self-defense, Zeus grabs the first thing he sees - an actual thunderbolt he pulls from a stone that is covered in mysterious markings. Zeus is the only one who can decipher the markings, and sets off on a quest to rescue his fellow Olympians from the evil Cronus. Armed with his trusty thunderbolt (named Bolt, of course), Zeus is on an adventure of a lifetime - and a journey to fulfill his destiny as King of the Gods.
Several other books in the series:
Here is the GoodReads summary of the book:
Where there is love and power, there is always . . . betrayal.
At seventeen, Cordelia is an ordinary teen with an extraordinary and frightening secret. A secret that induces vivd dreams in which she not only experiences true love, but crippling fear while barely escaping with her life each night.
After a life altering event, Cordelia has an unexpected encounter with Evan, the mysterious boy from her dreams, who reveals who and what she is, a descendant of the Greek gods. At that moment everything she knows of her world is a lie, and she must leave the present and go into the past to assume the role she was put on this earth for, safeguarding her ancient empire amidst evil forces that toil hastily to destroy it.
In a race against time, Cordelia must decide is she is truly a part of this dangerous world, or risk defying the gods, and ultimately lose the boy who has put a claim on her heart.
Other book(s) in the series:
Read by: B
Here is the GoodReads summary of the book:
The Fire Thief hilariously reimagines the myth of Prometheus, the Greek demigod who stole fire from the gods and gave it to the human race. To escape the gods' revenge, Prometheus travels through time to Eden City in 1858. There, he befriends a young orphan, actor, and petty criminal named Jim. When Jim runs into trouble with the law, Prometheus is torn - if he uses his powers to get his friend out of trouble, he will betray his hiding place to the gods. Terry Deary masterfully interweaves two plots, with action jumping at a whirlwind pace from Mount Olympus to the seedy taverns and elegant mansions of Victorian Eden City. Packed with puns, wisecracks, and sarcastic footnotes, The Fire Thief turns Greek mythology into a laughing matter.
Other book(s) in the series:
Read by: B and C
Here is the GoodReads summary of the book:
Dad's gut was so big that it wasn't crowded, even with the five of us down there. Of course, every once in a while, we got on one another's nerves. Poseidon was always trying to organize swimming meets. Hestia was always tidying up the place. Hera was the bossy one, always telling the rest of us what to do. But Demeter was definitely the weirdest. She was always going on and on about wanting to plant a vegetable garden. But, hey, we were family.
We all grew up in Dad's belly together.
When Hades and his siblings were born, their father, Cronus, Ruler of the Universe, swallowed them whole - just because of a prophecy that said one of his children would be mightier than he was. Can Hades and his brothers and sisters overthrow their big, bad dad and take over the universe? It's sure to be a hot time, Hades!
Other book(s) in the series: