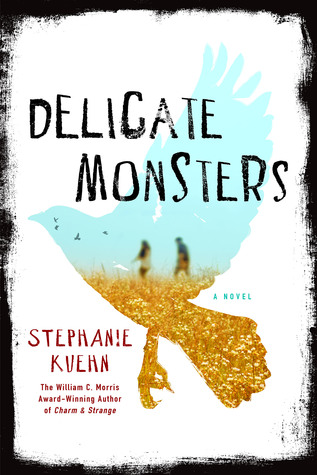 This review was written by: B
Received: ARC from Publisher
Publication Date of Book: June 2015
Pages: 240
Stars: 4.5/5
The things that we love tell us what we are.
-St. Thomas Aquinas
GoodReads' Summary:
From the Morris-Award winning author of Charm and Strange, comes a twisted and haunting tale about three teens uncovering dark secrets and even darker truths about themselves.
When nearly killing a classmate gets seventeen-year-old Sadie Su kicked out of her third boarding school in four years, she returns to her family's California vineyard estate. Here, she's meant to stay out of trouble. Here, she's meant to do a lot of things. But it's hard. She's bored. And when Sadie's bored, the only thing she likes is trouble.
Emerson Tate's a poor boy living in a rich town, with his widowed mother and strange, haunted little brother. All he wants his senior year is to play basketball and make something happen with the girl of his dreams. That's why Emerson's not happy Sadie's back. An old childhood friend, she knows his worst secrets. The things he longs to forget. The things she won't ever let him.
Haunted is a good word for fifteen-year-old Miles Tate. Miles can see the future, after all. And he knows his vision of tragic violence at the school will come true, because his visions always do. That's what he tells the new girl in town. The one who listens to him. The one who recognizes the darkness in his past.
But can Miles stop the violence? Or has the future already been written? Maybe tragedy is his destiny. Maybe it's all of theirs.
My thoughts:
I think that I can safely say that I'm in shock over
Delicate Monsters
; I literally have no idea what to say. I suppose that I shouldn't be surprised that Stephanie Kuehn wrote another stunningly prodigious novel that managed to leave me speechless, an occurrence that
rarely
happens. However, I will try my best to form coherent sentences as I attempt to describe Kuehn's gripping new release.
Delicate Monsters is equally dark, mysterious, eerie, and bizarre. Throughout the book, we gradually get to know three deeply troubled individuals: Sadie Su, Emerson Tate, and Miles Tate. Sadie is an agitator who loves to create trouble, inflicting suffering and pain upon whoever crosses her path. She's an unfiltered manipulator who doesn't listen to anyone. Emerson is almost like the "golden boy" of this story. He loves his mother, is a decent basketball player, and is a seemingly overall good teen, but he possesses a darkness within himself that's hidden and buried deep beneath his skin. No one has any idea about who he really is or exactly what he did during his childhood, except Sadie. Miles, my personal favorite, is small, sickly, and frightened. Under constant bullying, Miles is always alone; no one would protect him even if they wanted to. Together, these unsettling individuals create three separate perspectives that intertwine and unfold before your very eyes into something terribly distressing.
This psychological contemporary kept me engaged; I never wanted to put it down. The further into the story I got, the darker it became, an aspect that I truly loved about Delicate Monsters. Nothing was held back. I was shocked time and time again by unveiled revelations. Mysteries were built upon mysteries until they all came tumbling down, releasing an avalanche of despair on my heart. I do have to warn you, now, that this book is not for the weak of heart. It's gritty and consuming. It also delves into mental illnesses and social issues that are sometimes hard to deal with.
Kuehn's characters are undoubtedly enthralling and uniquely distinct. They have layers that are slowly pealed back, chapter by chapter, so that we can see who they truly are little by little. You think that you know them, but you don't. It's unimaginable to even fathom the depths of their souls. Mixing up who they are is impossible because the author does such a fantastic job of inserting an exceptional sharpness to each one of them. Her writing is also dreadfully beautiful. Kuehn is not afraid to think outside the box. She is willing to tell a story like no other, no matter how traumatic or disturbing it is.
I have to admit, I've been having a hard time accepting the ending to Delicate Monsters, but I'm slowly coming to terms with it. It definitely fits the story, but I'm left with an ever wondering mind. However, I highly recommend this book to YA psychological fans everywhere! It's beautiful, memorable, addicting, and haunting.
If you enjoyed this book, you may also like: