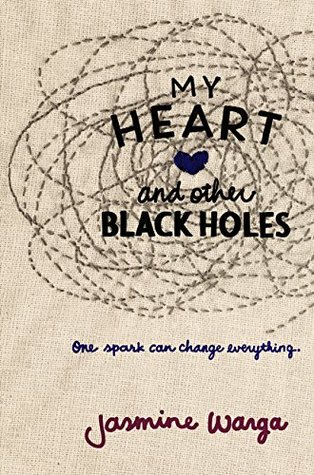 This review was written by: B
Received: Library
Publication Date of Book: February 2015
Pages: 302
Stars: 5/5
Official Summary:
A stunning novel about the transformative power of love, perfect for fans of Jay Asher and Laurie Halse Anderson.
Sixteen-year-old physics nerd Aysel is obsessed with plotting her own death. With a mother who can barely look at her without wincing, classmates who whisper behind her back, and a father whose violent crime rocked her small town, Aysel is ready to turn her potential energy into nothingness.
There's only one problem. She's not sure she has the courage to do it alone. But once she discovers a website with a section called Suicide Partners, Aysel's convinced she's found her solution - Roman, a teenage boy who's haunted by a family tragedy, is looking for a partner. Even though Aysel and Roman have nothing in common, they slowly start to fill in each other's broken lives. But as their suicide pact becomes more concrete, Aysel begins to question whether she really wants to go through with it. Ultimately, she must choose between wanting to die or trying to convince Roman to live so they can discover the potential of their energy together. Except that Roman may not be so easy to convince.
This is a gorgeously written and compulsively readable novel about the transformative power of love, heralding the arrival of an extraordinary new voice in teen fiction, Jasmine Warga.
My Review:
Something inside me clicks. It's like I've spent my whole life fiddling with a complicated combination only to discover I was toying with the wrong lock. And now, the vault inside of me that contains all my secrets is swinging open and I feel this rush of blood swell in my chest.
My Heart and Other Black Holes is part beautiful, part sorrowful, and most importantly, part hopeful. Overflowing with heart, pain, honesty, and truth, Warga weaves an expert tale that no one would be able to guess was her debut. It's fear. It's bravery. It's love.
While I have never faced depression nor have known anyone with it, it is still a very real and heartbreaking condition that can consume one's existence or overtake a life. This novel, in my opinion, possesses an extremely real element that, while reading, made me believe that Aysel was a real person. Her feelings and thoughts overwhelmed my own. Frighteningly genuine and authentic, her voice rang out to me and traveled through the pages into my heart. I believed every word she said. The darkness inside Aysel was real, a "black slug" that she never imagined she could escape. Her depression was eye-opening, and Warga wrote each and every word found in My Heart and Other Black Holes sincerely.
I frequently felt myself feeling intense emotions towards not only Ayself but also towards Roman. Their stories were profound, taking over my every waking moment. This book literally consumed me for the two days that I read it. Both tragic and touching, I can't possibly fathom how Warga's novel could be more perfect. It's not just about suicide and depression, though. In fact, this novel is so much more than that. It's about living for one's self and for others. It's about trying to see yourself and the world in a completely new and brighter perspective. It's about love, family, and discovering what it means to live again even though it seems impossible.
I will be stronger than my sadness.
I have never read a book that left me with such strong feelings of optimism, faith, and hope by the end of it. Warga knows how to make an ending count. I cannot recall how many times I fell in love with a book only to become deeply disappointed with its ending, inevitably resulting in me "breaking up" with it. However, I was completely satisfied with My Heart and Other Black Holes's outcome. I actually sat there and contemplated what I had read for once. I wasn't even eager to start something else because I knew I would be disappointed with whatever book was placed in my hands after reading this masterpiece.
I don't know how to thoroughly convey my feelings about Warga's novel without consistently rambling on some more; so, I'll leave you by saying that this book embodies hope. I actually feel optimistic. On top of that, her writing is beautiful and deep and her characters are realistically painful yet magnificent. I highly recommend this book, and I'm eagerly waiting to see what Jasmine Warga puts out next!!!!
If you enjoyed this book, you may also like: