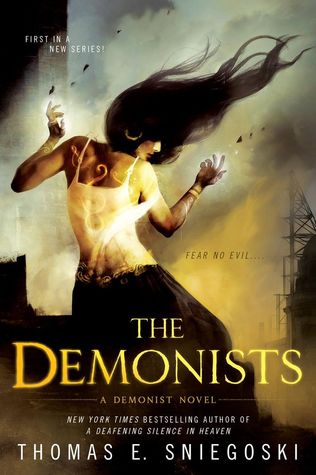 The Review was Written by:
C
Publication Date of Book:
April 2016
Official Summary:
There is more to our world than meets the eye—darker things, crueler things. Exorcist John Fogg and his wife, psychic medium Theodora Knight, know what lurks in the shadows. But even they're not prepared for the worst Hell has to offer...
It was supposed to be a simple exorcism, a publicity stunt to firmly establish John and Theodora's thriving paranormal investigation empire in the public eye. But something went wrong, leading to an on-air massacre that unleashed a malicious host of demons and left Theodora catatonic, possessed by countless spirits.
John sets out on a desperate quest to find a cure for his wife, but his obsession brings him face-to-face with an even more terrifying problem: Theodora's possession is only one piece of a deadly plot that is threatening the entire world. Because an ancient evil is about to make Earth its battlefield—and without John and Theodora's intervention, there is no chance for salvation...
I was super excited when this book was available for request! If you follow us on Instagram, you can see my obsession for Thomas E. Sniegoski's novels, especially
The Fallen
series. As a result, I had to get my hands on his most recent work. In his new series, Sniegoski abandons his angel and Nephilim tales and focuses on individuals who deal with all manors of evil that go bump in the night, especially demons. As a result, this book possesses the horror and gore that usually accompanies these dark entities. Also,
the book continues Sniegoski's style of focusing on the never-ending battle between the forces of good and evil and the innocents who get caught in the middle.
The story delves into the lives of John Fogg and his wife Theodora Knight (who also happens to be a skilled psychic). They are both paranormal investigators who run a legitimate paranormal television program. However, when an easy job comes up that's to be aired live for their Halloween special, something goes terribly wrong and Theodora ends up becoming possessed by countless demons, some of which John Fogg had previously helped to personally destroy earlier in his career. As a result, they won't let Theodora's soul go easily, and it's up to John to figure out how to save the love of his life. However, the torment doesn't end there, and John has to deal with a recent string of child kidnappings that's somehow connected to what occurred during the disastrous Halloween paranormal investigation.
Once it is discovered that an ancient evil is attempting to make its way back to Earth in order to usher forth darkness, death, and destruction, John has to come to the conclusion that he can't stop it on his own.
He requires the help of a cop and an old organization that has fought dark entities for centuries. However, will these individuals be able to save the
entire
world?
At the end of the day, I feel as though this book didn't meet my standards of
The Fallen
series. Maybe it's simply because
The Fallen
was my first impression of Sniegoski and it's my all-time favorite work of his. The whole apocalypse scenario also gets overused quite a bit, but I believe that authors often employ it to show just how serious the situation is and how drastic the obstacles are that have to be overcome. However,
I greatly enjoyed this book overall and believe that The Demonists is a fairly good first installment that will open the gates for a series that I know I'll enjoy.
A lot of reviewers have mentioned that this novel is extremely gory and creepy, but I surprisingly didn't feel this way. This is probably because his other works are similar in this regard and I just expected it. I also have to mention that
Sniegoski does have an amazing talent for creating vivid and even poetic descriptions of events
. While this work easily fits into the dark fantasy/horror genre, I encourage you not to get turned off by the gore because
The Demonists
is a truly worthy read. I just felt that some sections could have moved a bit faster. Nonetheless, the book was a highly entertaining read, and you can bet that I will be sticking around, eagerly awaiting the next installment!
If you enjoyed this book, you may also like: