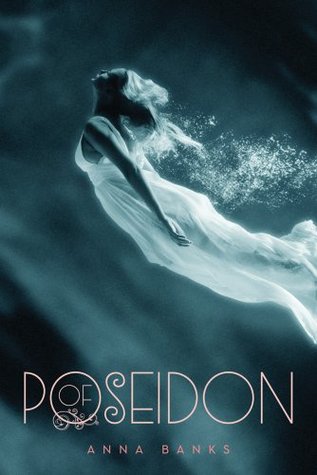 This review was written by: C
Received: Library
Publication Date of Book: May 2012
Pages: 324
Emma is just your average teenager until a sudden tragic accident changes her life forever. While vacationing with her friend, Chloe, Emma literally stumbles into Galen, a cute young man who also happens to be a merman (although, his species prefers the term 'Syrena'). Galen immediately recognizes Emma's violet eyes as a Syrena trait, but her white hair does not fit the profile (apparently all Syrena have dark hair). He also finds it strange that she lives among humans, as this is a direct violation of Syrena law. After her embarrassing run-in with Galen and his sister, Rayna, Emma and Chloe go surfing. They are a fair distance from the beach when a shark attack ensues. Chloe is drug below the surface and Emma in powerless to help her friend, nonetheless she dives in after Chloe. Emma attempts to pull her from the shark's jaws, but these attempts are futile. In her frustration she commands the shark to drop Chloe, and to her surprise, the shark complies. The lifeguard arrives and pulls Emma and Chloe into the boat, however, Chloe is no longer alive. Unbeknownst to Emma, Galen saw the events transpire and was unable to get there in time to save the day. He also witnessed her strange ability to command the shark, a gift that only the direct descendants of Poseidon are known to possess.
Emma finds it extremely difficult to continue on after the death of her best friend and is completely oblivious as to how she will survive the school year alone. Galen, who just happens to be a Syrena prince and the ambassador for the Syrena and humans, wants to learn more about Emma and thus sets out to find her. He finds her school and immediately enrolls in the hopes of getting closer to Emma and finding out who and what she truly is. A few strange events transpire and Emma learns that she is actually half Syrena. She begins a complicated relationship with Galen as he teaches her about his world and the abilities that she may soon possess. She also learns that the Syrena are split into two groups, those under the descendants of Poseidon and those under the descendants of Triton. Both royal houses are supposed to carry a strange talent within their bloodlines. It is possible for the royals of Poseidon to inherit the ability to command the animals of the sea and the royal descendants of Triton are supposed to have an ability that enables them to have some sort of control over the water (this exact gift is not completely explained, as no descendant has actually inherited it yet).
Galen is also keeping a crucial detail away from Emma. If she truly possesses the gift of Poseidon, she must mate with Galen's older brother, Grom (a descendant of Triton), in order to keep the gifts alive and ensure the survival of the Syrena. The only problem is that Galen truly loves her and would never want her to end up with his older brother, a man that still loves his lost mate, Nalia.
At first, I thought this book would just be one of those typical mermaid tales in which a girl finds out she can grow a tail and goes to live as a royal fish under the sea. I was totally wrong. There was more depth than I thought there would be, and there were some fairly interesting plot twists (but so some were a bit predictable). I loved the fact that Emma was a strong female character that formed her own thoughts and was not afraid to voice her own opinions. There was also tons of humor and minor characters that kept the story fresh and interesting.
I loved the fact that Galen turned out to be a bit naive whenever human girls entered the picture, which just made the story even more hilarious. For an ambassador between humans and Syrena, he did not quite understand human customs and word choices (as he often mixed up the terms "mating" and "dating"). His constant bickering relationship with his younger sister, Rayna, brought a lighter tone to the story, too. Rayna and her mate, Toraf, had a great love/hate relationship that displayed how one can showcase their love and another refuses to acknowledge it.
It was a bit predictable when another character that 'possessed' Emma's gift was introduced. It seemed that Galen's and Emma's relationship just might become possible, and suddenly all hope was ripped away. The ending was also a complete cliffhanger!!!! I must read what happens next!
If you enjoyed this book you may also like: