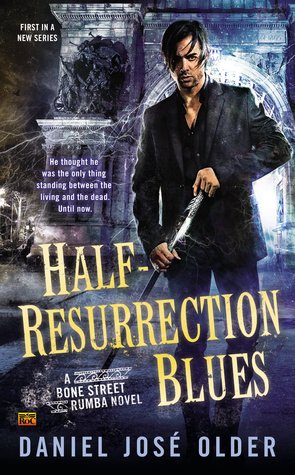 This review was written by:
C
Received:
Publisher
Publication Date of Book:
January 2015
Official Summary:
"Because I'm an inbetweener—and the only one anyone knows of at that—the dead turn to me when something is askew between them and the living. Usually, it's something mundane like a suicide gone wrong or someone revived that shouldn'ta been."
Carlos Delacruz is one of the New York Council of the Dead's most unusual agents—an inbetweener, partially resurrected from a death he barely recalls suffering, after a life that's missing from his memory. He thinks he is one of a kind—until he encounters other entities walking the fine line between life and death.
One inbetweener is a sorcerer. He's summoned a horde of implike ngks capable of eliminating spirits, and they're spreading through the city like a plague. They've already taken out some of NYCOD's finest, leaving Carlos desperate to stop their master before he opens up the entrada to the Underworld—which would destroy the balance between the living and the dead.
But in uncovering this man's identity, Carlos confronts the truth of his own life—and death…
My Thoughts:
This is definitely a book that I thoroughly enjoyed! Older did a splendid job of building a realistic multiethnic Brooklyn with an urban fantasy twist. There are tons of adult urban fantasy novels out there that get too caught up in attempting to explain their fictional worlds with overcomplicated rules, hard to follow plots, and too many characters to keep track of. Older threw all of this out the window and masterfully created a world that was both interesting and easily understood. He quickly gave a rundown of the New York Council of the Dead and the hierarchical structure of Carlos' world without losing the reader along the way. The characters (both human, undead, and otherworldly) were also enjoyable. He even created some unique creatures, such as the ngks. These imp-like beings aren't similar to anything I've read about before. They're strange, mysterious, and I love Older's addition of their strange little exercise bike contraptions. There were many other diverse characters, but I believe that a few stood out more than others.
I can't quite put my finger on why this is so, but I loved reading the story through Carlos' point of view. Even though this is a fantasy novel, Older made Carlos seem like such a real person. You were able to experience his pain, sadness, triumphs, internal conflicts, and literally live his experiences. Even though Carlos is an inbetweener -- a human that's neither wholly dead, nor wholly alive -- you were still able to empathize easily with him. I think that Older used Carlos' current state of existence to his advantage in order to convey such realistic emotion. He really made Carlos into a truly unique character.
I do have to say that there were a few of supporting characters that enriched the story, especially Kia and Dr. Tijou. Kia, a sassy teen, had a personality that I loved! Even though she wasn't a huge part of the story, I was definitely interested in reading about her. Her interactions with Carlos in Baba Eddie's establishment were some of my favorite parts of the book. I also love the fact that Dr. Tijou always became overwhelmingly ecstatic whenever she told stories about past medical experiences, especially the gory ones! There was even great chemistry between Carlos, Riley, and Dro. I definitely would peg them as an odd version of the three musketeers. Overall, Half-Resurrection Blues was a great read that every fantasy lover should pick up and devour!
--- SPOILERS ---
The only reason that I gave this book a 4.5 out of 5 stars, is due to last battle that Carlos and Sasha have with Sarco. It felt a bit anticlimactic. When they eliminate Sarco by having him accidentally kill one of the ngks and then the rest of the slain creature's brethren devour Sarco's body and soul, it just seemed like the obvious solution. This is mostly due to a previous event, when Dro was destroyed by a swarm of ngks after he harmed one of them.
If you enjoyed this book you may also like: