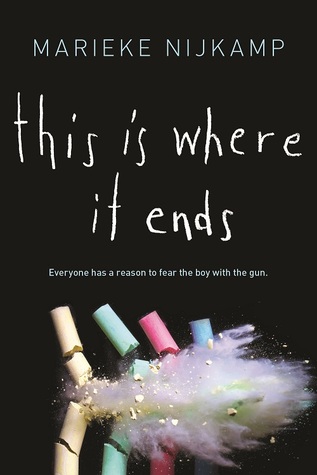 This Review was Written by:
B
Publication Date of Book:
January 5, 2016
Official Summary:
10:00 a.m.
The principal of Opportunity, Alabama's high school finishes her speech, welcoming the entire student body to a new semester and encouraging them to excel and achieve.
10:02 a.m.
The students get up to leave the auditorium for their next class.

10:03 a.m.
The auditorium doors won't open.
Told over the span of 54 harrowing minutes from four different perspectives, terror reigns as one student's calculated revenge turns into the ultimate game of survival.
My Thoughts:
This is Where it Ends
is a frighteningly haunting tale that sorrowfully mirrors our broken world today. The book focuses on four points of view (Claire, Tomás, Autumn, and Sylv), each of them somehow separately but equally affected by the same school shooting in their quiet hometown of Opportunity, Alabama. Claire is a talented track player who's outside practicing with her team when the first shot is fired. Her younger brother is trapped inside. Tomás is the school's lovable bad boy and Fareed's partner in crime. Together they've broken inside of the principle's office while the principle gives her famous back to school speech to the rest of the school in the auditorium . . . just before their entire world shatters. Autumn is a reserved upperclassmen who can't wait to leave her dead-end life behind and become a famous dancer, just like her deceased mother. Keeping her feelings inside, she never shares her innermost thoughts, but now she wishes that she had with the person she loves the most, because she may never get the chance to do so. She's become stuck in the auditorium with the shooter. Sylv is Tomás' intelligent twin sister. She's also trapped in the auditorium with Autumn, her best friend, while her brother is nowhere to be found.
All four of these lives will become broken and reshaped by one day's events.
The shooter is angry . . . and he's out for revenge.
I wasn't certain what to expect from this book except for a boatload of diversity. Nijkamp is an executive member of We Need Diverse Books and the founder of DiversifYA. As a result, I was expecting some varied, unique characters, but I was still blown away by how much Nijkamp actually brought to the table.
This is Where it Ends
is bursting with a large cast of characters in such a huge variety of ways, and I greatly applaud her for this.
There's LBGTQA+ representation, as well as characters from all different backgrounds and ethnic groups.
This is always fabulous to see, especially in a YA novel.
This is Where it Ends
is an honest portrayal of love, loss, loneliness, passion, and fall-out. I can't even begin to imagine what it must be like to face down a fellow classmate with a gun in his hand and broken heart in his chest. What makes a person completely close themselves off from the world? What sets a person on the path of no return? What makes a teen take up a gun and shoot without hesitation? These are ideas that Nijkamp ultimately attempted to explore. On top of that, she also tried to enlighten the reader on just how many people are affected by school shootings. Whether they are present for it or not, families, friends, and peers that you may not even know that well are all touched by the same pain and loss, but in varying degrees.
It's not just about the shooter, his gun, and his victims. It's about the survivors and the fighters, the lost and the found.
This is a tale that many will find terrifying, heart-wrenching, and sincere all at once. What happens when you realize that you might not make it back home alive?
There are countless aspects to this book that I loved. For one, I realized that life shouldn't be taken for granted.
While it may be difficult to fathom, one hour, one minute, one second can change a single person's life forever.
We're not guaranteed another sunset, so telling our loved ones how much we appreciate them is more important than ever. We never know when we'll get that opportunity again or when the rug will be pulled out from under our unsteady legs.
This is Where it Ends
is such an important read. High school can be a gruesome experience, and while we may not always remember a person's face or what they did, we'll always remember how they made us feel. And whether we realize it or not, everything that we do counts and will somehow affect another person. Everything is connected.
Nijkamp did such an amazing job portraying all of the different emotions throughout the book, not only with each individual character but also with the overall feel of
This is Where it Ends
.
The hopelessness, the stress, the confusion, the anger, the hurt, it was all so real. You can feel the anger and nonchalance of the shooter radiating off the page. You can sense the desperation of his victims and their family leaking through the paragraphs.
On top of that, I think that she did a great job getting into everyone's heads. Could this all have been avoided? What little thing could I have done differently to have changed this situation? Was this my fault? Those were just several of the questions the protagonists were forced to confront, and it could not have been written by a better author. Talking let alone reading about school shootings is straining and emotionally taxing, and it was not an easy thing to sit down and indulge in. The story's meaning holds so much, though, and what you will get out of this book is priceless. Of course, each and every horrific event such as this one has its own backstory, and
This is Where it Ends
is just one case scenario. (I would just like to point this out so that people are not disappointed in the interpretation, but the emotions surely run true for all case scenarios.)
It is astounding how one hour, one minute, one second can change a life forever.
The book showcased the ultimate fight for survival and the fact that each day is an amazing gift, even if we do not realize it.
The sacrifices made by loved ones left me nothing short of breathless. My only complaint, which is really not even a complaint but rather a gathering sadness or deep frustration, was several of the deaths. I knew they were bound to happen, but sometimes with stories like these you need a little more hope to get you through them. Nijkamp probably wanted to keep the story authentic, though, and did what she thought best, which I completely respect. So, as not to spoil the story, I will not discuss this further.
If you're looking for a heart-wrenching, emotional story that will leave you pondering its subject matter for days, look no further. The roller coaster of feelings is on!
If you enjoyed this book, you may also like: