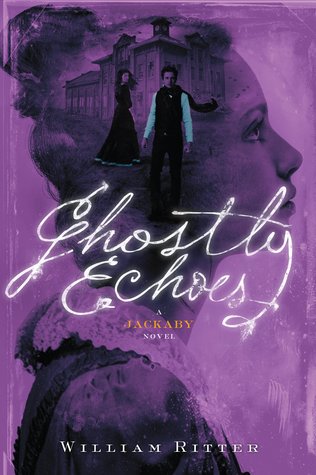 This review was written by:
C
Received:
Publisher (Algonquin Young Readers)
Date of Publication:
August 2016
Official Summary:
Jenny Cavanaugh, the ghostly lady of 926 Augur Lane, has enlisted the investigative services of her fellow residents to solve a decade-old murder—her own. Abigail Rook and her eccentric employer, Detective R. F. Jackaby, dive into the cold case, starting with a search for Jenny's fiancé, who went missing the night she died. But when a new, gruesome murder closely mirrors the events of ten years prior, Abigail and Jackaby realize that Jenny's case isn't so cold after all, and her killer may be far more dangerous than they suspected.
Fantasy and folklore mix with mad science as Abigail's race to unravel the mystery leads her across the cold cobblestones of nineteenth-century New England, down to the mythical underworld, and deep into her colleagues' grim histories to battle the most deadly foe she has ever faced.
My Thoughts:
"The real powers at play never take center stage. Don't follow the marionette, follow the strings."
― Jackaby
I have to say that Jackaby has become one of my favorite mystery/historical/fantasy YA series ever. There is just so much to experience with each new installment. There's more to discover, fiercer challenges to face, and a whole lot of that Jackaby attitude that I love! He is simply one of those characters that you can't help but fall in love with from the very beginning. He possesses so much knowledge and insight in various situations involving the magical and fantastical, but he can be quite daft when it comes to social interactions, social norms, and common courtesy. It just makes him so damn lovable! For example:
"Bertram!" Jackaby patted him on the arm affably as he bustled past him into the front hall. "It's been ages, how are the kids?"
"I remain unmarried, Mr. Jackaby, and I'm afraid you can't be seen just now."
"Nonsense. Miss Rook, can you see me?"
"Certainly, sir."
"Well, there you have it. You must have your eyes checked, Bertram."
As you can see, Ritter truly knows how to craft a humorous conversation. Anyway,
Ghostly Echoes
continues the tale of Jackaby and Abigail, but so much more is revealed about Jenny, her death, her tragic past, and ghostly powers. I thoroughly enjoyed her character development and emotional journey. However, you don't only learn about Jenny's past, but Jackaby's as well. We finally get a better idea of his gift and the individual who previously possessed it.
I have to say that this third installment was much darker than the previous two (I feel as though the second book was the lightest of the three), and I think it just made the story even better. There is also quite a bit more magic in the mix as well as science. Ritter does such a great job of blending the two, but I did feel as though the magic took center stage in this volume, and the occurrences involving magic were a bit more out there than in the previous novels. Without spoiling too much, I'll just say that various other realms aside from our own were explored.
I was also super excited to find answers to many questions that have come about from the first two books, and the grand scheme/plot of the series is coming to light. Although, this did result in more questions arising, and I still can't believe that there is only one installment left! Jackaby is such an amazing character and I don't want his remarkable story to be over just yet.
Most of all, I adored Jackaby's moments of brilliance and wisdom and Abigail's, too. There are so many quotable moments, but there was one in particular that stood out to me. While Jackaby and Abigail were out and about, they came across an individual that was transgender and being picked upon by a larger group. Jackaby didn't even register the character's outward male appearance and automatically began to refer to the person as she. I thought that Ritter's addition of this scene was touching and profound, and I am so glad that an interesting LGBTQ+ character has been introduced. Anyway, there was one quote that referenced this individual that stood out to me:
"There are lots of people out there who are terribly hateful. She could avoid a whole lot of trouble and dress and act as they want her to, but she chooses to be herself. That's brave. Also - the last time we met she stopped Jackaby from hurting the men who hurt her. They might have killed her. Kindness is an act of bravery. I think, just as hatred is an act of fear. I sure can appreciate that not all strength is muscle, Mr. Finstern. She has a strong spirit, and I believe she is brave about the way she chooses to use it."
All I can say, is that this series is a must read. It blends so many genres (history, fantasy, paranormal, detective/mystery) that there is bound to be something for everyone. So, I shall leave you with one last quote from
Ghostly Echoes
:
"There is something humbling about knowing that an entity capable of moving mountains and reshaping continents still takes the time to tend to the smallest patch of dirt. Little things matter. Footsteps matter."
― William Ritter, Ghostly Echoes