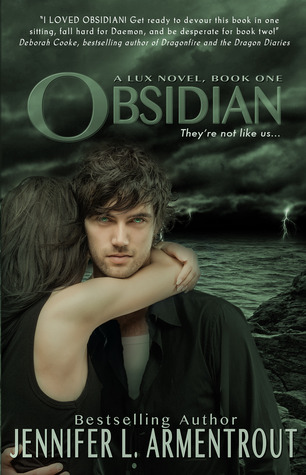 This review was written by: B
Received: Library
Publication Date of Book: May 2012
Pages: 335
Stars: (5/5)
Funny how a little spark of pain unleashed something more powerful than the fleeting ache it caused. Memories...
-Obsidian
Katy is forced to move to West Virginia on her mother's impulse to start over after a tragic death in their family. Little does she know, this move will change her life forever. Spending her days hoping that her books will come so that she may review them on her blog, she quickly makes friends with her energetic next door neighbor, Dee, and enemies with Dee's arrogant, green-eyed brother, Daemon. Life couldn't get much more interesting than that. That is until she finds out that her neighbors are aliens of light from the planet Lux. What could go wrong with that? After Daemon uses his powers in front of Katy to save her life from an oncoming car that would have eminently hit her, Katy now has been marked. Daemon has shown his powers to a human, leaving his energy on her that enemies of a Luxen can see and take advantage of. This fickle character decides that it is his responsibility to watch over her until the excess energy surrounding her in a brilliant glow (that humans can't see) fades to nothing.
Katy and Daemon act as though they loath each other despite the fact that they have an underlying chemistry. They're also consistently bating and bickering with each other, an amusing yet sometimes tiresome thing to read. However, we get to glimpse that not only do these characters have an up and down relationship, but they also care for each other deeply. Without wanting to admit it, they each feel a pull to each other just like magnets, and underneath the surface, they have things in common. Dee and Daemon lost their brother, Dawson, who fell in love with a human girl while Katy lost her father to cancer. While crying won't change the past, they will never forget their loved ones. Daemon's remembrance of his loss and the reason because of it makes him pull away from Katy whenever he gets close to her, making things complicated in their "relationship."
Armentrout can spin a story like no other. Obsidian had a great plot and a take on aliens that was equally refreshing and intriguing. It was definitely original and especially fantastic! The characters weren't just something on a page but people with feelings and actions that we all have, such as a driving desire to keep those around us safe. I was actually surprised by this book. I'm not normally into alien paranormal romance, but I am now! Each character was unique and equally amazing to read about. There's no doubt that I'll follow this series to the end!
If you enjoyed this book you may also like: